Green Schools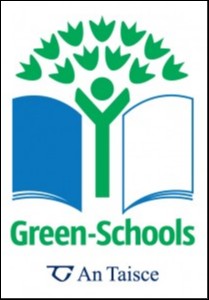 Green-Schools, known internationally as Eco-Schools, is an international environmental education programme, environmental management system and award scheme that promotes and acknowledges long-term, whole school action for the environment.
Unlike a once-off project, it is a long-term programme that introduces participants (students, teachers, parents and the wider community) to the concept of an environmental management system. However, Green-Schools is far more than just an environmental management system.
A Green Flag is awarded to a school every two years. To date, we have been awarded three Green Flags. We achieved our First Flag for Litter and Waste while our Second Flag was for Energy. Our latest flag was achieved for the theme of Water Conservation.
We learned a lot about conserving water in school. Here are some ways you can help to continue this conservation process at home:
turn off the taps when washing your teeth – you can save 6 litres of water.
take a shower not a bath – don't use power showers as a 10 minute shower uses as much water as 3 baths!
fill the kettle for the right amount – you can save energy as well!
use waste water from dish washing to water your plants
never use a hose pipe in your garden
always fix leaking taps
use your dish washer and washing machine only when they are full thus saving energy as well!
20th Jun 2023
Junior Infants got to explore our school garden this morning. They even tried their...
16th Jun 2022
We are delighted and proud of how well our school is looking. The garden and grounds...
St. John's National School, Ballisodare, Co. Sligo | Phone: 071 91 67639